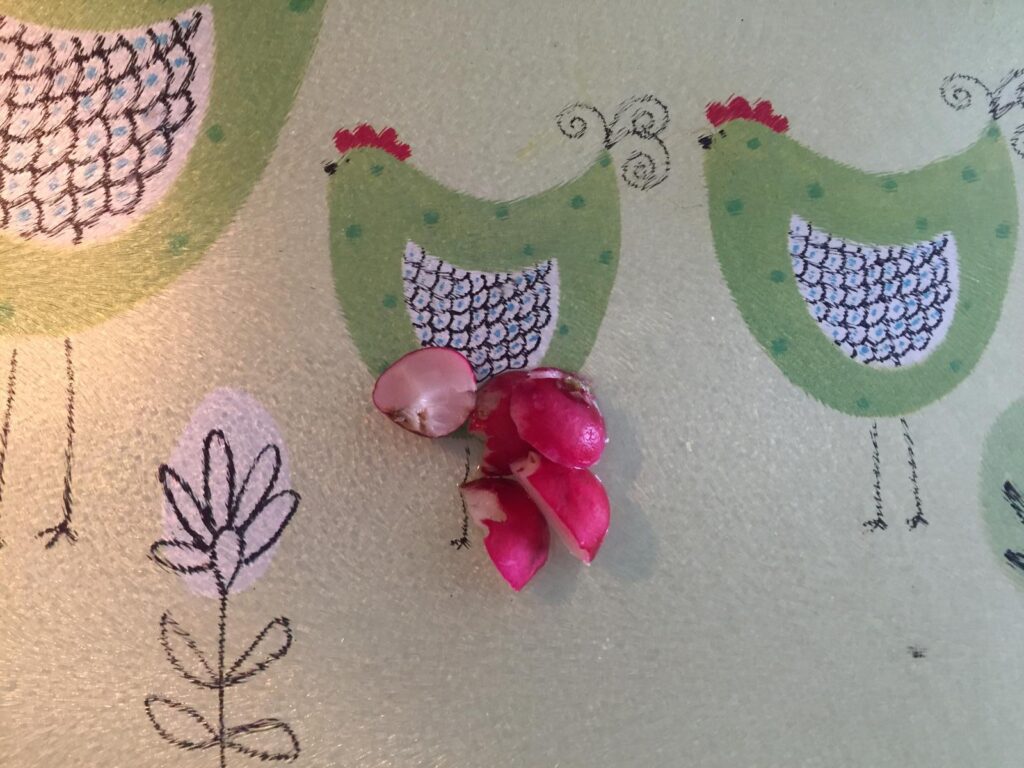 A Creative Examination of a Radish
(Round Red Fourcing Radish)
Michelle Tighe, one of our wonderful volunteers, offers us a really interesting and creative way to celebrate #biodiversity.
Originally I invited Michelle to be part of our celebrations for International Biodiversity Day, on May 22nd, and to  join our Tea Table Talk series. The plan was to present a Biodiversity Cooking Demo, using some of the vegetable produce she had grown in her garden. Unfortunately that did not happen. That morning Michelle woke to find the harsh night wind had blown away months worth of work and her 'ready to harvest' vegetables, now nibbled away by pests.
No doubt deflated, Michelle decided to go with the flow of nature… Instead of staying annoyed or giving up (like I myself would probably want to do), Michelle was resolved to carry on. Figuring a new way of using her now less than perfect vegetables, Michelle decided to get creative, and comes up with a great way to avoid waste while having fun at the same time. Combining art and science Michelle begins a radish experimentation.
Turning VEGETABLES INTO PAINT, Michelle undergoes a study of the Round Red Fourcing Radish. Presenting to us a wonderful example of #workingwithnature. Accompanying these gorgeous images is a beautifully written passage, which includes a real life insight into how it feels when things in nature don't quite go according to our plan. Included in her text is a reference to the wonders of a radish as dietary supplement during the #irishfamine; and her process of COLOUR EXTRACTION.
Michelle has taught me to look upon 'disaster' as a potential opportunity, rather than with a sense of discouragement or frustration. That the human-centric expectation we too often place upon nature sometimes doesn't work out in our favour, and thats ok. We have no control over the weather or what it may do to the plants in our garden. And of course insects need to eat too!
Thank you Michelle for reminding me that when we embrace nature in her totality, the most surprising and delightful things can happen. I would like to dedicate this post to all the home growers and gardeners out there, who share a similar experience. May you not get disheartened the next time heavy rain damages your crop of vegetables, or a strong wind blows your delicate flower petals to the ground. Perhaps instead, we can all be reminded of Michelle's Creative Examination of a Radish and know there is always something else we can do with our bounty –  by simply creating a new silver lining.
The gallery at the top of this post presents a selection of photographs by Michelle Tighe. These photo images offer a glimpse at Michelle's creative process, as she experiments with the wind blown radishes grown in her garden – (Round Red Fourcing Radish).

A #collaboration between Green Sod Ireland Land Trust and Greenhouse Culture. Together celebrating #BIODIVERSITY in all its glory.